Financial &
Accounting Software
Designed to help you to manage your financial transactions and record-keeping.
Invoicing, bookkeeping, budgeting, payroll processing, tax preparation, and financial reporting.
Book your demo now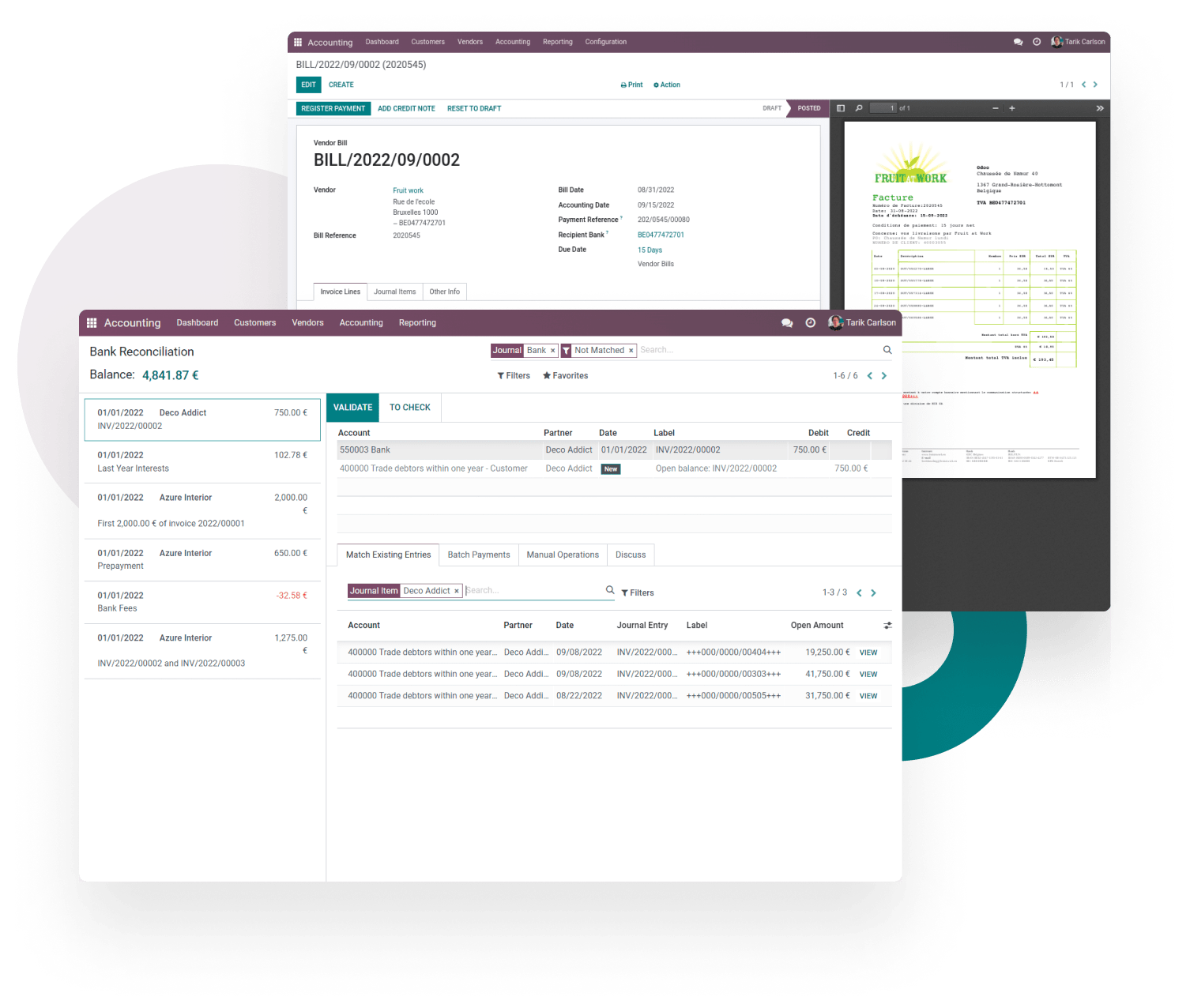 Stay on top of your finances with ease - with our accounting dashboard!
Your financial insights, all in one place
Odoo accounting dashboard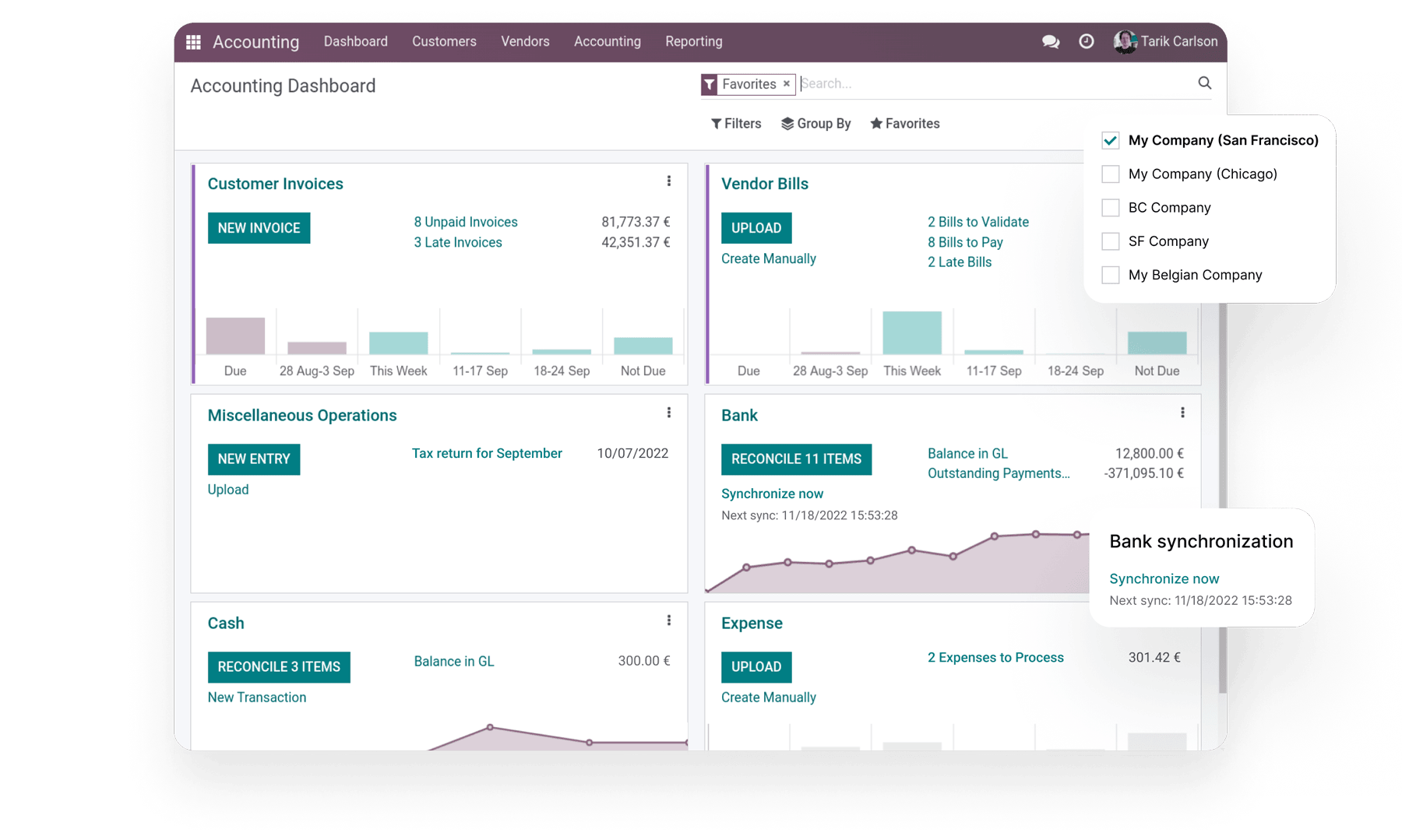 Import Bank statements, Manage PDC, Easy reconcile
Manage recurring invoices and easily track your cost
Easy & customizable invoicing with online payment
localized to meet your country requirements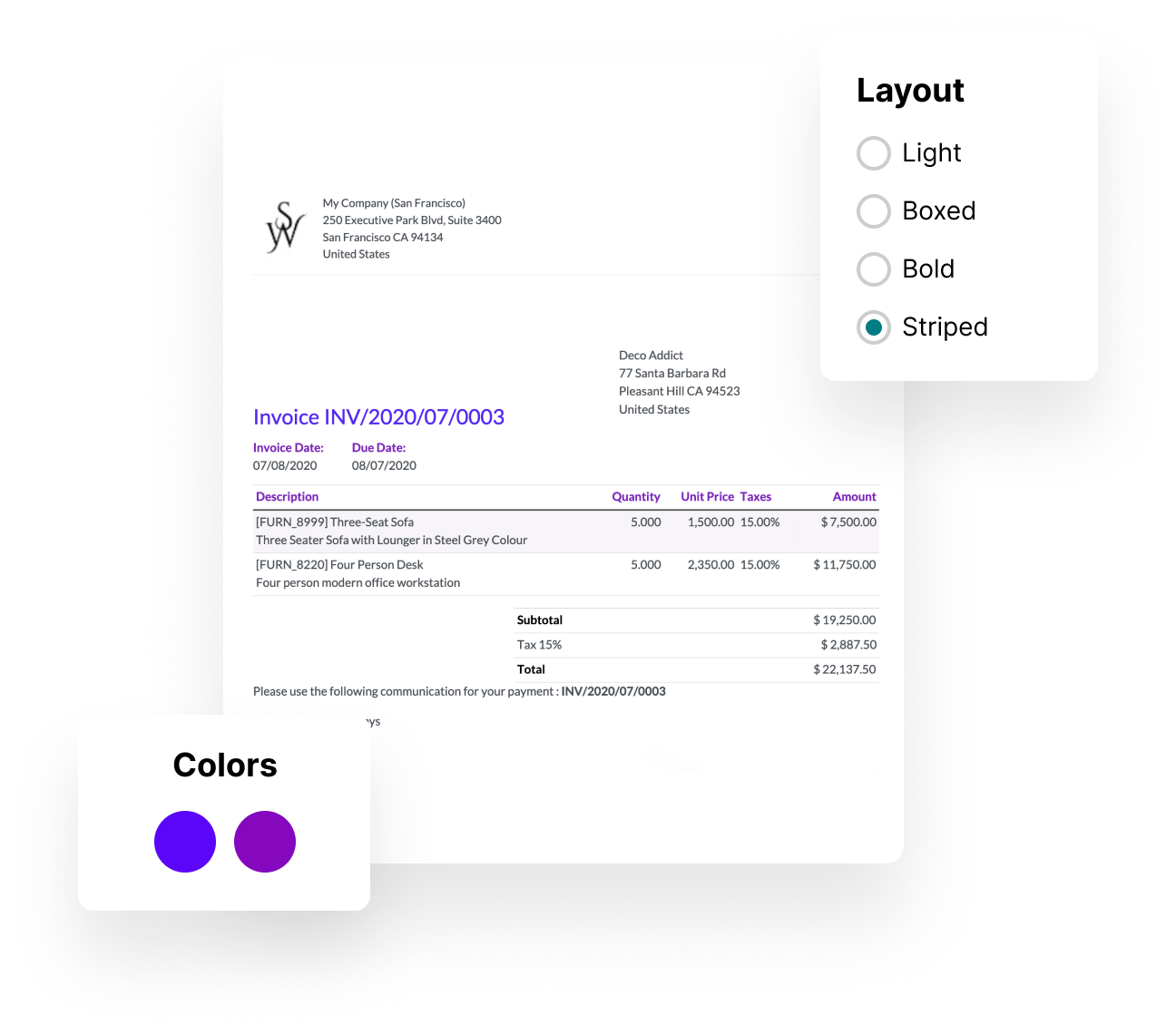 Advanced invoicing
A multi-currency environment with an automated exchange rate to ease your international transactions

Convenient customer portal to enable quick payments

Automated follow-ups sent to collect late payments

Incoming and outgoing batch payments (SEPA Direct Debit, SEPA Credit Transfer, check, etc..)

All main payment providers (Stripe, Authorize.net, NetworkAE, PayPal, PayTabs, Alipay, and many more.
Intelligent financial asset management
Comprehensive asset management at your fingertips

Smart Reconciliation Tool
Get automatic reconciliation propositions and register extra journal items on the fly.
Assets
Set up your assets models and never deal with your depreciation entries anymore.
AI invoice digitization
Uses OCR and artificial intelligence technologies to encode automatically your business documents in your accounting.
Accruals
Automatically spread in multiple entries to reflect your deferred revenue and deferred expenses, created in draft mode and posted periodically.
Wherever you are, we got you covered
Fiscal Localization packages
to match your country's requirements.
Odoo Accounting is pre-configured specifically for your country's requirements: charts of accounts, taxes, country-specific reports, electronic invoicing, audit files, and fiscal positions to automatically apply the right tax rates and accounts.
Localization packages for UAE, Kuwait, Lebanon, Iraq, KSA, Qatar, Oman, Bahrain, Jordan.
Your reports, the way you like them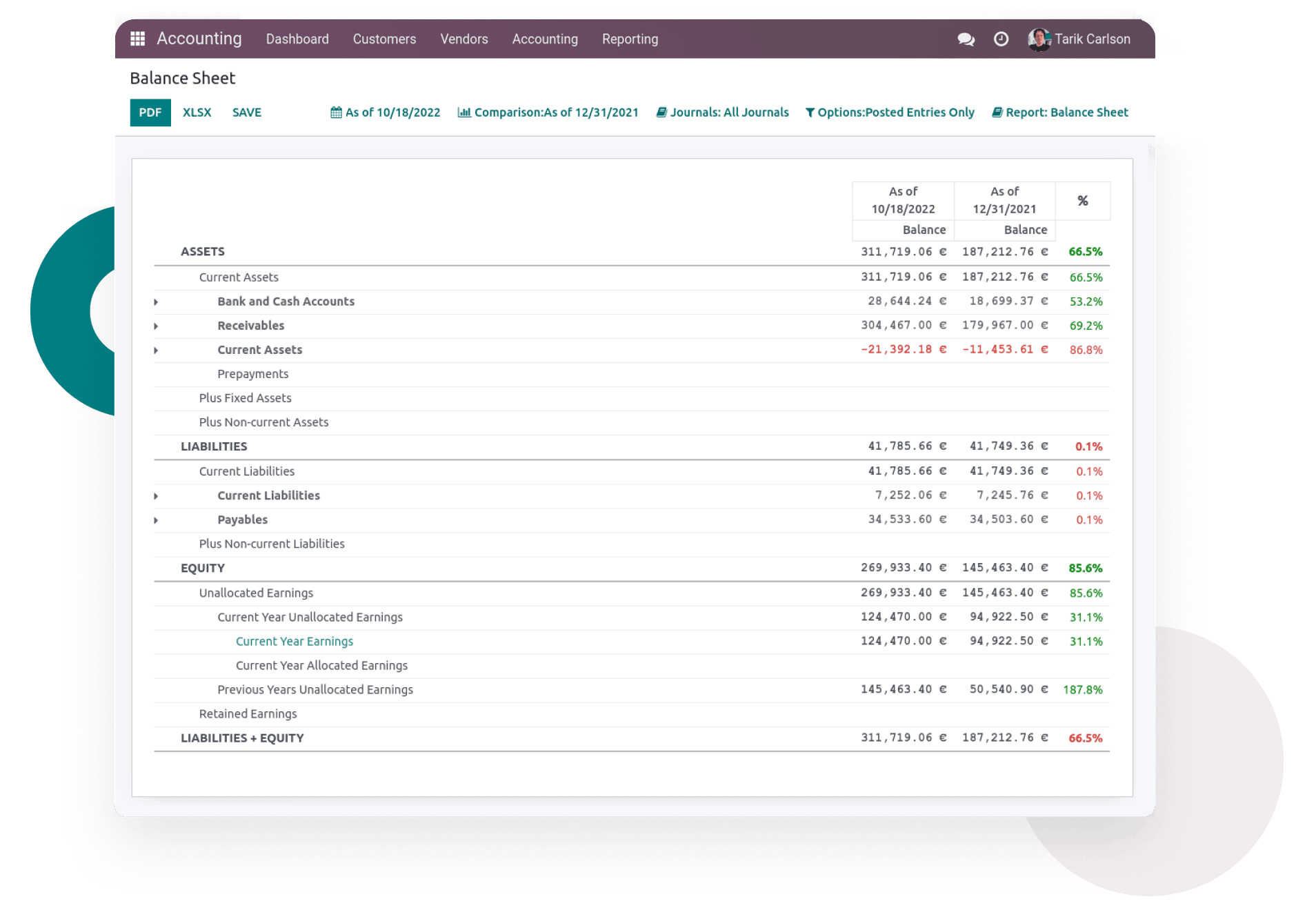 Instant, generic, and dynamic reports
Annotate, export to xsl and see the detail of reports easily.
Limitless reports, any time
To allow you to correctly manage your financial and legal statements.
Compliant tax reports
Get government-compliant tax reports in either accrual or cash basis methods.
Compare your figures between periods
Choose the periods you want and quickly see the comparison.
Spreadsheets
Prepare, analyze and store your reports in spreadsheets, benefitting from data communication and management.
Access detailed data
Easily click on your your report lines and access key information quickly.
Monitor and analyze your figures to grow your business
Ease the analytic distribution on invoices and bills thanks to a dedicated custom widget
Manage multiple analytic plans and sub-plans to shape your own analytic multi-dimensions/axes
Structure your analytic accounts automatically based on projects, contracts, departments, etc.
Use budgets to compare actual with expected revenues and costs
All what you need in one app
integrates other app and eases your life
The future of accounting software
Effortless documents management

Clear and detailed clients dashboard

Collaborative system

Complete financial management suite

Risk management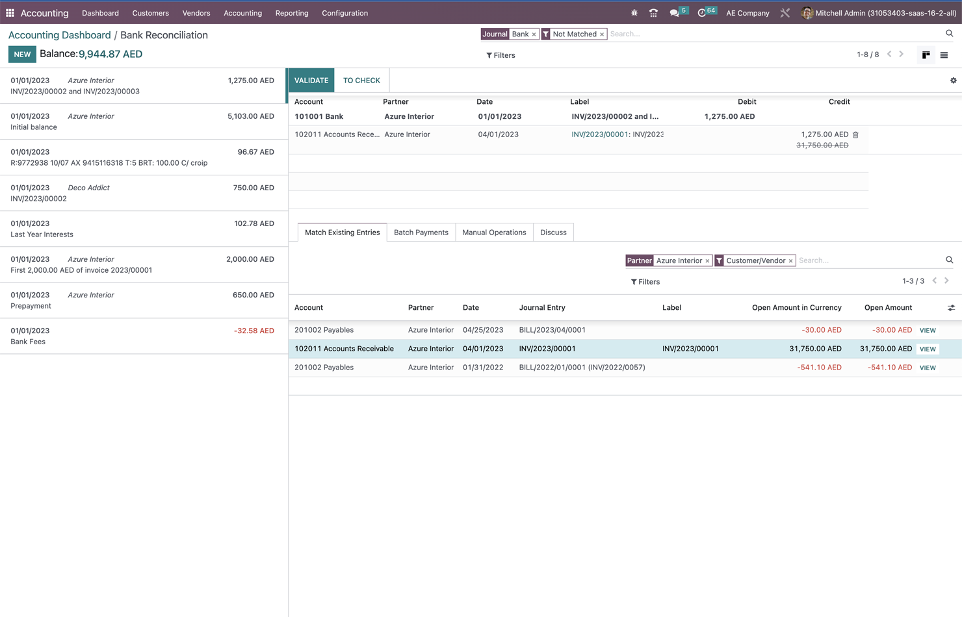 Our lovely customers
What our clients say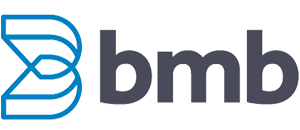 E. Yacoub
CTO of BMB move
Al Jawad team has a special spirit, they are always eager to help and guide.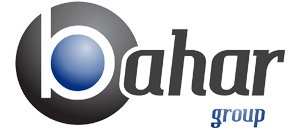 M. Sidiq
Country Director of Bahar Group of companies
Al Jawad implemented a fully integrated solution that makes our process much more automated and accurate.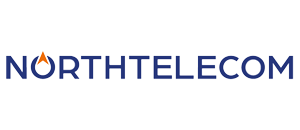 H. Nazari Mehrabi
CEO of NORTH TELECOM
Al Jawad were not only professional in implementation, but also they adviced us on the right procedures, processes and SOPs.
Stop recording transactions manually
The Accounting module is fully integrated with other Odoo apps.
Documents

Turn quotes into professional-looking invoices in one click and export your data into spreadsheets.
Inventory

Synchronize every transaction with your stocks to keep your valuation up to date
Business Intelligence

Go the Extra Mile with Spreadsheets.
Sales

Automatically create project tasks from sales orders.
Unleash your growth potential
Talk to our expert